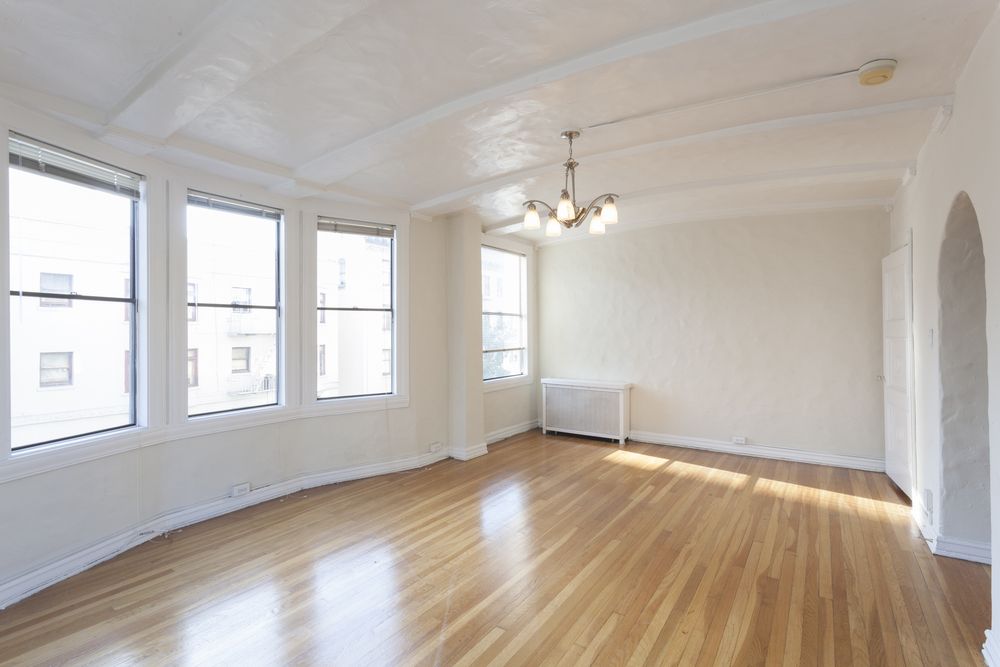 SERVICES
Are you torn between a simple sand and polish and a full restoration? Do you have parquet flooring in West London W4 that needs some TLC but don't know which service to choose? Our summary of the different types of services available from The Floor Sanding West London will help you make the right choice. Or find out more by calling us or booking your free Onsite Consultation visit online here.
FLOOR SANDING
This is one of our most popular services for both domestic and commercial customers in W3 West London. Our team will come in and, once any necessary repairs have been carried out, use the latest equipment to sand the top layers from your wooden floors. Both hard and softwood floors can benefit from sanding, as can parquet tiling, as the process prepares the floor for staining, finishing or varnishing. This process quickly removes years of wear and tear or layers of grime and will leave your wooden floor looking like new.
WOOD FLOOR RESTORATION
After years of being hidden underneath carpeting or floor coverings, wooden floors can be in need of a little TLC. Alternatively, you may have inherited a wooden floor that's in a poor state of repair and needs a full restoration. Our wood floor restoration experts in West London W5 can assess your floor, recommend a course of action and then carry out full restoration and repairs, no matter how big or small your floor.
WOOD FLOOR REPAIR
Wooden floor repairs are usually less comprehensive than full restorations, and may range from minor repairs to replacing boards or even making repairs to the sub-floor levels. This can eliminate those annoying 'squeaks' (the sound of boards rubbing together when pressure is applied) and get your floor ready for sanding and finishing.
WOOD FLOOR STAINING
For wood floor staining in West London, our teams use the latest stains that are eco-friendly and non-allergenic, so you can be sure you're not filling your home with noxious chemicals! Wood floor staining produces a wonderfully warm and rich result, and with a huge range of colours to choose from – from traditional to vibrant, contemporary hues – staining is ideal for almost any situation. From bright colours for children's rooms to subtle, natural colours for a reception area, wood floor staining is still one of the most popular finishes for wooden flooring of all types.
WOOD FLOOR FINISHING
Once your floor has been repaired and sanded, we can offer you a range of finishes to complete your look. From varnishes and laquers through to staining and waxing, our eco-friendly wood floor finishings are designed to produce the best possible results. Varnishing is ideal for floors where there is a risk of spillages, as it forms a seal across the entire surface of the wood, while staining and waxing gets into the heart of the wood and gives it a depth of tone and warmth that really brings out the natural beauty of your flooring.
PARQUET FLOOR SANDING
Parquet flooring has undergone a revival of fortunes in recent years, and West London homes and businesses that are fortunate enough to have parquet flooring should make the most of their assets. However, parquet floor sanding requires a gentle touch, and our professional sanding teams have the experience, the expertise and the equipment to bring the most out of any parquet floor.
PARQUET FLOOR RESTORATION
Parquet floor restoration usually involves the replacement of individual tiles, which presents its own challenges due to the delicate nature of this process. Traditional parquet tiles are usually held in place using a bitumen-based adhesive, so removing this can be very difficult. Parquet floor restoration is best left to the experts, who have the experience to bring even a badly damaged floor back to life.
PARQUET FLOOR REPAIR

Like ordinary floor repairs, parquet floor repair is less invasive than a full restoration. It could mean replacing one or two tiles, or rebonding lose tiles to the floor. But again, because of the delicate nature of parquet and the changes in how tiles are bonded, repairs of this nature are best referred to an expert parquet floor repair team.
WOOD FLOOR POLISHING
Hardwood floors eventually lose their shine. If you want to restore them back to their original condition but don't want to go for a full sanding and refinishing then polishing is our recommendation. Polishing can only be done after the floor has been buffed, to ensure that the surface is completely clean and dry to achieve the best finish. We recommended that office floors are polished once a year and domestic floors every two years to keep them looking their best.
GAP FILLING: RESIN, SLIVERS & SILICON
Gaps between floorboards can not only be an annoyance and an eyesore, but they could also be costing you money! A wooden floor with gaps is an inefficient floor, and you could be losing a substantial proportion of your heat through these gaps. Filling these gaps using resin, slivers and silicon ensures that your floor is not only ready for sanding and polishing, but also thermally efficient too. Plus, gap filling gets rid of those annoying squeaks that are produced when the floorboards spring and flex. Gap filling is quick, easy and part of our preparation to ensure your wooden floor is in top condition throughout.
WOOD FLOOR MAINTENANCE
Once your floor has been sanded and finished, it should last for years. However, to keep it looking its best a certain amount of wood floor maintenance is required. Every two years we recommend that the floors are buffed and polished to bring them back up to their best again (we recommend this once a year in high-traffic areas), while small repairs should be dealt with as and when they arise. Our teams are always on hand to give advice and help, and we're happy to carry out routine maintenance on any commercial or domestic wooden floor in West London.
COMMERCIAL FLOOR SANDING
A pristine wooden floor can make a big impression, especially if it's the first thing your visitors and customers see when they walk in to your offices. Our commercial floor sanding service in West London ensures that your wooden floor looks its best, and our team are willing to work outside normal office hours to minimise any impact on your business too.
SCHOOL FLOOR SANDING
Schools often have large expanses of wood flooring in corridors, classrooms and halls. Our specialist teams in West London have the experience and equipment to make light work of these challenging environments, and ensure that your school floor looks its best from one term to the next. Our specialist equipment minimises the production of any dust, while our teams are happy to work during the school holidays to reduce the impact on the day-to-day running of your school.
FINISHES AND SEALS
We take our green credentials very seriously, so all of our finishes and seals are eco-friendly and non-toxic. We choose the right seals and finishes depending on the wood we're working with, and as using different seals on the same floor can produce a poor quality result, we use our expertise and specialist knowledge to make sure we use the right finish or sealant product on your floor.